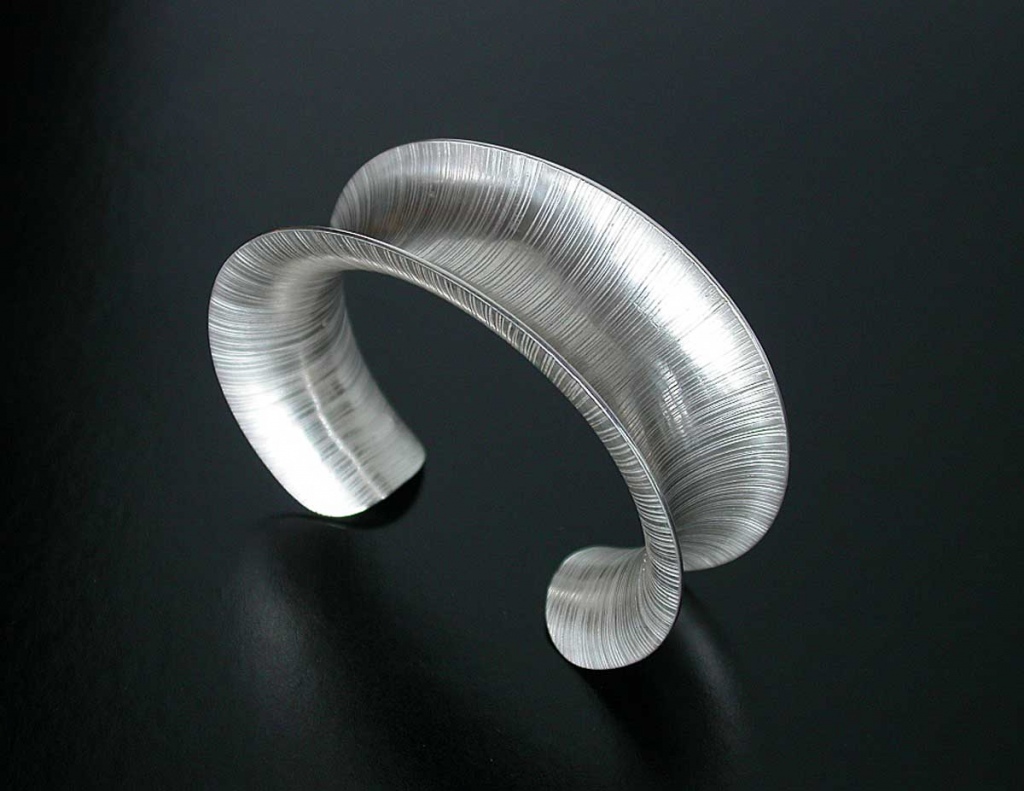 Silver Bangle
A concave bangle with an open back. This piece has been inscribed with delicate lines which are perfectly irregular.
Silver curve earrings
A pair of silver stud earrings to bring a little bit of extra light and shadow to your face.
Cascade necklace
A very delicate and pretty graduated necklace in silverwith blue sapphire beads.
18ct. gold earrings
Take three circles, cut and spiral until you have achieved a perfect little flower for each ear.
Blossom earrings
These hangingsilver earrings are inspired by the lovely laburnum blossom which is so abundant in the spring.
Silver earring stud
A stud earring which is very light weight and comfortable completely covering the ear lobe. Fitted with extra large butterflies, 2.5cm diameter.
Silver and 18ct. brooch with pearls
Brooch and matching earrings with a gold spiral and pearls on a fine grained silver base. I use a double pin to make sure the brooch sits close and secure to the wearer.
Silver shuttle necklace
My grandmother made lace with a tatting shuttle and thisis her shuttlenecklace.
Silver cascade earrings
A little cascade of spring blossom in the shape of a silver earring.
Silver spiral brooch and earrings
A large and dramatic silver brooch and matching earrings in a hollow spiral form.
Silver brooch
A silver trellis brooch. Length 7.5cm, height 5cm.
Silver brooch
I "found" this brooch when I was playing at the bench. The repeating elements are reminiscent of both cellular structure and lace.
Silver shuttle chain
Each link in this elegant silver shuttle necklace has to be cut out and shaped by hand.
Silver shuttle earrings
Our attention is instinctively drawn to movement and play of light. These silver shuttle earrings in three parts bring that attention to you face.